Founder's Profile - Mrs. Ambika Nair - M.Sc., RD, CDE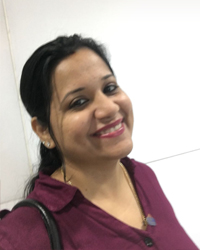 Clinical Nutritionist, Registered Dietitian, Corporate Nutritionist, Academician and Certified NLP Coach ,REBT and EFT Practitioner
Mrs. Ambika Nair is well-known Clinical Nutritionist, Registered Dietitian and Certified Coach from Pune, with an experience of 24 + years.
She is actively working as:
Director, My Nutritional Needs-Nutrition Consultancy Services, Pune
Consultant Clinical Nutritionist, Jupiter Hospital, Pune
Consultant Gulati's Clinic, Aundh, Pune
Counsellor and Coach, Bliss Clinic, Pashan, Pune
Co-Convenor (VP), Indian Dietetic Association, Pune Chapter - 2019-2021
RD Board Representative, Indian Dietetic Association, Pune Chapter - 2019-2021
HOD of Nutrition, DES College of Nursing, Fergusson College - 2007 till Date
Faculty of SNDT, FC and Pune University
Corporate Nutritionist - Xoriant Technologies, Baner & Hinjewadi
Senior Panel Advisor - Prana Health Care, Isana Systems
Panel Advisory Board - GSK (Horlicks), Nucgnex, Eris Pharma, Lingdao Health Care
Panel - Faculty team of Tapas Gold, Tapas Elder Care, Aundh, Pune
Certified NLP Coach (Vitality Living ), RE & CBT Therapist ( New York ), BFT, EFT - Level 3 (AAMET, UK) Practitioner- Bliss Clinic, Baner, Pune
Educational Qualifications:
Diet and Nutrition:
M. Sc. (Foods and Nutrition), RD (Registered Dietitian), and UGC-NET Qualified Lecturer, (HOPE) UK Certified Diabetic Educator (CDE)
Alternate Therapy:
NLP Diploma laid by ANLP, NLP Practitioner, Breakthrough Coach with Time line technology, Hypnotherapy Parctitioner- Vitality Living College
AAMET, UK Certified EFT Level -3 Practitioner
Certified in Inner Child Matrix Re imprinting, Advanced EFT Rebirthing
Reiki Grand Master, Crystal healer certification
Certified in BFT (Bach Flower Therapy)
Work Experience:
Mrs. Ambika Nair is a Founder member and Director of My Nutritional Needs, with 24+ years' experience in Nutrition and Dietetics.

She is a RD (Registered Dietitian) and a (HOPE) UK Certified Diabetic Educator. Her Areas of Expertise include Childhood and Adult Obesity, Clinical Nutrition, Therapeutic Diets, Corporate Nutrition, Research and Academics.

Currently she works as a Senior Consultant Medical Nutritionist in Jupiter Hospital, Baner, Pune and Gulati's Clinic, Aundh, Pune.

In December 2018, Mrs. Ambika Nair was elected as Co-Convenor (Vice President) Indian Dietetic Association, Pune Chapter for year 2019-2021 and as the RD Board Representative, IDA, Pune. Being RD board representative of IDA, Pune, she is actively involved in organising committee conducting CMEs and CNEs and other IDA activities within Pune chapter.

Currently is Head of the department (HOD) of Nutrition as DES College of Nursing in Fergusson College campus.

She is also working as Corporate Nutritionist for various corporates and currently associated with Xoriant Technologies as Corporate Nutritionist for their Baner & Hinjewadi branches.

She is a Senior Panel Advisor for Isana Systems'- a flagship Digital collaboration Health Care platform called PranaCare, which focuses on digitalistaion of Dietetic and Medical Practice.

This year, she is also selected as senior board member of various Panel Advisory Boards such as GSK (Horlicks), Nucgnex, Eris Pharma etc. These Panel Advisory Boards conducts various nutrition research related programs for Doctors and Nutritionists all over Pune and Maharashtra and Ambika is active contributor, as a Speaker and Organiser for such programs.

She has contributed in hospital nutrition, where she set up the Dietary department of AIMS Hospital, Aundh- (August 2014-March 2016) and extended support to set up and maintain the Dietary department, with NIN protocols and standards laid by IDA.

She also worked as Chief Dietitian, in Ruby Hall Clinic for 4 years, Consultant Dietitian in CCU, Maharashtra Medical Foundation, Joshi Hospital for 4 years, ICU Consultant in Shreesakthi hospital, Medipoint Hospital and AIMS Hospital Pune etc.

She is an active member of Academicia, as a Guest faculty with SNDT for Advanced Nutrition and Nutritional Biochemistry, Pune, Contributory teacher, School Of Health sciences, University of Pune, for the Post graduate departments, and presently as HOD of Nutrition Department, DES College of Nursing, Fergusson, Pune since 12 years.

She has actively involved in setting up the syllabus of M. Sc, Nutrition & Dietetics, School of health Sciences (1997-2000) and has been a visiting faculty for the curriculum. In her tenure, she has been a lecturer for Advanced Biochemistry, Nutrition and Dietetics, and Nutrition Practicum.

She has been actively involved in setting up syllabus and entire the Dietary department of DES College of Nursing, since 2007.

She has been actively involved as a Compiler - Yogya Arogya Health Magazine, a monthly health magazine published by Tej Gyan Foundation, a NGO in Pune, since a period of 12 years. She has written more than 200 articles, for the magazine on various topics related to health and nutrition.

She has conducted several workshops in Tej Gyan Foundation (Happy Thoughts), related to health and nutrition.
She has been a Guest speaker in various annual conferences and has several publications to her credit.

In the Field of Nutrition and Dietetics, she has earlier been Secretary, Indian Dietetics Association, Pune Chapter, (2011-2015) and has Actively participated as a member of the Organizing committee in IDA CON - Pune -2013, Indian Dietetic Association, Annual National Conference, Pune.

She presently Conducts RD Syllabus revision classes for the students who appear for RD exam, since 2009 till date in Pune, to her success 27 students have cleared RD Exam with the help of her Online revision classes.

Ambika Nair also has an excellent academic record. She was All India Topper in Registered Dietitian exam held by Indian Dietetic Association in June 2009 in the first attempt with distinction marks. She topped the college in M. Sc. Foods and Nutrition, Women's Christian College, Chennai. She was also a gold medalist with Chennai University First Rank while she was pursuing B. Sc. Nutrition and Dietetics from Anna Adarsh College for women, Chennai. She is also a UGC -Qualified Lecturer and a HOPE, UK, Certified Diabetic Educator.
Expert in Alternate Therapies
Apart from being a Senior Nutritionist, She is a Spiritual Counselor, Certified Life coach, with a Diploma in NLP (Neuro Linguistic Programming), Breakthrough Coaching, Diploma in NLP Trainer and Practitioner, Diploma in Hypnotherapy, Timeline technology. from Dr. Rangana Chowdary (Vitality Living college, UK).

She is a Certified, REBT (Rational Emotive Behavior Therapy) and CBT (Cognitive Behavior Therapy) Therapist from Albert Ellis Mental Health Institute, New York.

She is also a qualified EFT (Emotional Freedom Technique)-LEVEL -3 Practioner, AAMET, UK Certified EFT Matrix Reimprinting and Inner Child healing.

She is a Certified Reiki Grand Master, Crystal Healer, and Bach Flower Therapist.

She has treated, counseled more than 1000 cases, since 2008 with the above tools, and Counseling and brings out the Inner potential of her clients with her dedication to Counseling.

She is currently associated with Bliss Poly Clinic, Baner - Pashan Link Road as Life Coach.

She is an active volunteer of Tej Gyan Foundation (TGF), an NGO and Spiritual Organisation since 1998.
---
Mrs. Ambika Nair is available at (only by appointment ):
Jupiter Hospital
Near Prathamesh Park, Pimple Nilakh Road, Baner - 411045
Phone : 020 27992058 or 27992799
Timings : Morning 11 am - 2 pm and Evening 7 pm - 9 pm (Mon to Sat )
Gulati's (Multi-Speciality) Clinic
204, Supreme Centre, ITI Road, Landmark: Above PNG Jwellers, Pune
Timings : Evening 5.30 pm - 7 pm (Mon-Wed-Fri only)
Bliss PolyClinic
1st Floor, Caviana Building, Baner - Pashan Link Rd, Pashan, Pune
Timings : Evening 5 pm - 7 pm (Mon to Sat )
My Nutritional Needs
C 302, Willows, Baner balewadi Road, Near Comfort Zone, Balewadi, Pune - 411045
‭
To book an appointment with Ambika, please contact:
Mobile : +91 90112 56500
Email: ambika.nair@mynutritionalneeds.com

For more details, visit our website www.mynutritionalneeds.com
Wellness Nutrition
Medical Nutrition Therapy
Weight Management
Corporate Nutrition Program
School Nutrition Program
On-Line Consultation
Hospital Dietetic Department Set-Up
Sports Nutrition Services
RD Examination Syllabus Revision
Academics
Alternative Therapies